Sektor's DS development site
News
| FlashbackDS |
SpoutDS
|
DiggerDS
|
dualHexen
|
CdogsDS
FlashbackDS
2011-07-30
Alekmaul has ported the latest version of REminiscence to DS
. It has support for the PC CD SEQ movie files and is faster than previous DS versions. This is the best port, so ignore the links below this post.
2007-06-16
GPF's REminiscenceDS
. It's based on newer code and currently has more features than FlashbackDS v0.24. I have mirrored GPF's REminiscenceDS here:
DSREminiscence-0.1.9.rar
,
DSREminiscence-0.1.9SRC.rar
2007-03-06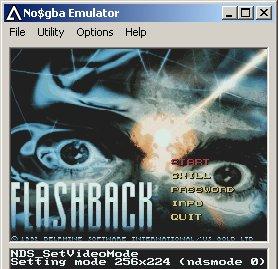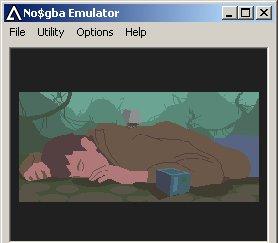 flashbackDS_0.24_bin.7z
- NDS binaries - compressed with
7-Zip
flashbackDS_0.24_src.7z
- source code
flashback_data_files.7z
() - 9MB (includes DOS files, Amiga music, SegaCD speech, English, French and Italian cinematics)
Features:
- Sound effects (not great but better than nothing)
- Music plays but it sounds like poop
- Level select. You can scroll through level codes on the password screen. Up/down for skill, left/right for level.
- Resources and music are read from /data/flashback/data/ on a compatible media device
- Saves are stored at /data/flashback/
- DS sleeps when you close the LID (you'll have to pause manually)
-
DLDI
support
Things that still need to be done by someone:
- Improve sound code
- Stop music from sounding like poop
- Make text easier to read (scaling issue)
- Speed up cut scenes and fix cut scene glitches
- Build a flying car
Requirements:
-------------
A Nintendo DS and a compatible DS homebrew device.
How to use:
-----------
Step 1:
- Figure out what device you own
- flashbackDS.nds is for GBAMP, MMD and most slot-1 devices like R4, M3 Simply, DS-X, SCOne
- flashbackDS.gba.nds is for most slot-2 devices like SCSD, SCCF, SC Lite microSD, M3SD, M3CF
- If you have a GBAMP, M3CF, SCCF, SCSD or another old device supported by libfat's built-in driver or your flashcart automatically DLDI patches then you don't need to use the DLDI patch. Skip Step 2.
Step 2:
- Download
dlditool and the DLDI driver
for your device
- Patch flashbackDS.nds or flashbackDS.gba.nds with a DLDI patch for your device
Step 3:
- Copy flashbackDS.nds or flashback.gba.nds to any folder on your card (on DS-X it's best to use the apps folder)
- Copy the flashback data files to X:\data\flashback\data\ (replace X: with the drive letter of your device)
- Launch FlashbackDS and hopefully it will find the required files and begin
DS controls:
----------------------------------------------
d-pad move Conrad
A draw/holster gun
B talk / use / run / shoot
X use the current inventory object
Y display the inventory / skip movies
L display the options
R toggles fast mode
These libs/toolchain were used (thanks to the authors!)
----------------------------------------------
devkitARM_20 and libnds-20070127
SDL-1.2.9ds.rar
NDSzlib-1.2.2.rar
libfat-nds-20070127
libcartreset 0.72
Links