TXT2GTA2
Generate Grand Theft Auto 2 normal and in-game font with this free tool. Download link below.
Behold, there is an online version (made possible by T.M.):
http://gtamp.com/text/
VERSION
3
RELEASED!!

Woohoo!
- Complete GUI
- Advanced colouring system (unlimited colours in one text line possible)
- Polish character support
- Option to turn on/off file overwrite
Please tell me how it works for you. Any crit/bug/problem? Please post below.
Disclaimer
: You understand and agree that your use of this program is entirely at your own risk and that the program is provided "As Is" and "As Available".
Copyright
: Fonts (images) are taken from Grand Theft Auto 2 (GTA2) game. Original creators are DMA Design (now Rockstar North).
DOWNLOAD
:
Attachment:
File comment: bugfixed
TXT2GTA2_v301.zip [4.48 MiB]
Downloaded 839 times
GUI:
Attachment: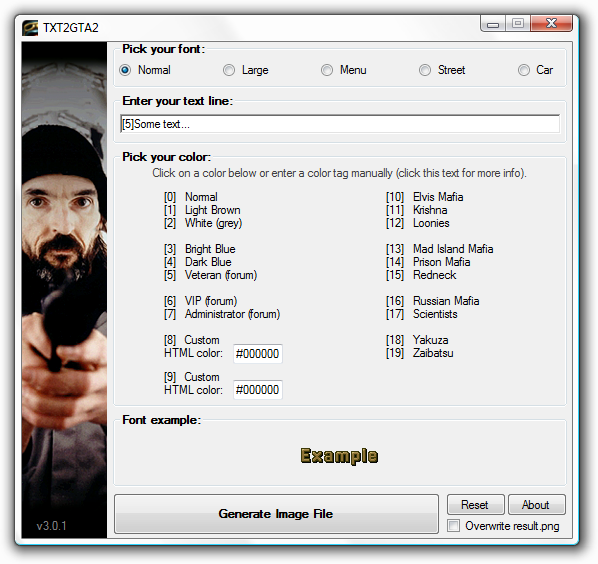 TXT2GTA2_v301._GUI.png [ 96.04 KiB | Viewed 5370 times ]
What it can do:
Attachment:
TXT2GTA2_v3_examples.png [ 50.32 KiB | Viewed 5378 times ]
OLD Version 2 (released on 11 February 2010):
Attachment:
TXT2GTA2_v2.zip [4.78 MiB]
Downloaded 276 times
OLD Version 1.1 (released on 3 February 2010):
Attachment:
File comment: OLD VERSION
txt2gta2_v1.1.zip [4.29 MiB]
Downloaded 224 times
OLD: Version 1 (released on 2 February 2010):
_________________
"Only Silky Milky implants by Zaibatsu feel and taste like the real thing."