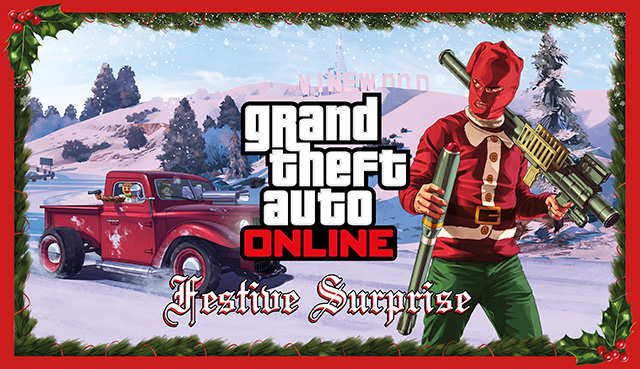 It's that most wonderful time of the year in Los Santos.
Jump into Grand Theft Auto Online this holiday season for a Festive Surprise.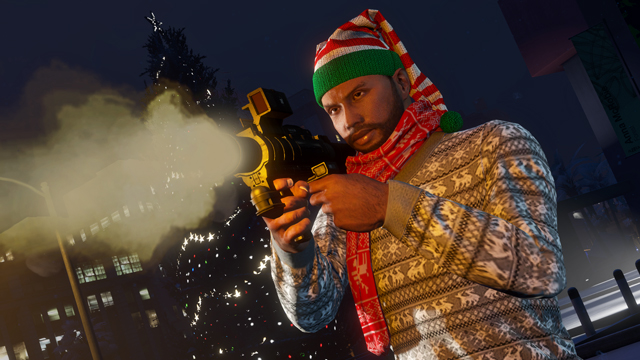 EXPLOSIVE STOCKING STUFFERS
Heat up your season's greetings with brand new items stocked at Ammu-Nation: a new Homing Missile Launcher and Proximity Mines are here just in time to make spirits bright. These items will be permanently available to acquire and keep.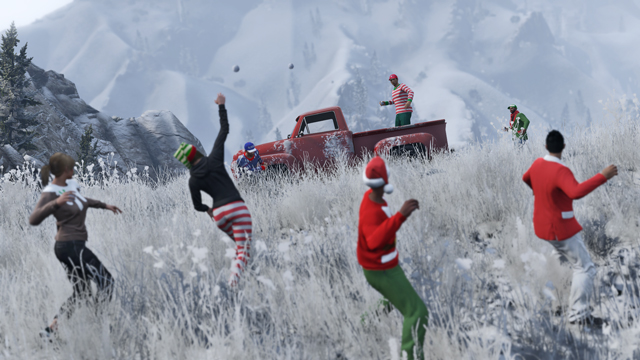 SNOW DAYS
Those dreaming of a white Christmas are in luck as the forecast calls for the extremely rare phenomenon of San Andreas snowfall to hit on a few special days this holiday season. Be on the lookout and ready to round up your Crew for a friendly snowball fight, but be forewarned, those icy little suckers can pack a wallop.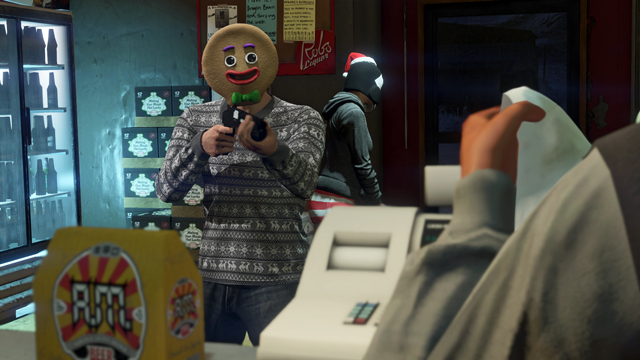 FREE SEASONAL CHRISTMAS GEAR AND MASKS
Add some merriment to your mayhem with a slew of holiday pajamas, 'ugly' Christmas sweaters, new scarves, hats, masks and more are now all available absolutely free to add to your inventory and wear now through Monday January 5th.
MAKE A DASH IN FOUR ALL-NEW VEHICLES
Treat yourself to some new toys this holiday season and fill your garage (now that you can own a third property and garage, also part of today's Title Update) with four all-new vehicles to purchase – including a tricked out Hot Rod Christmas Ratloader, the sturdy Slam Van, and the fast and flashy Massacro and Jester sports cars with all new Race liveries. These vehicles will be permanently available to acquire and keep.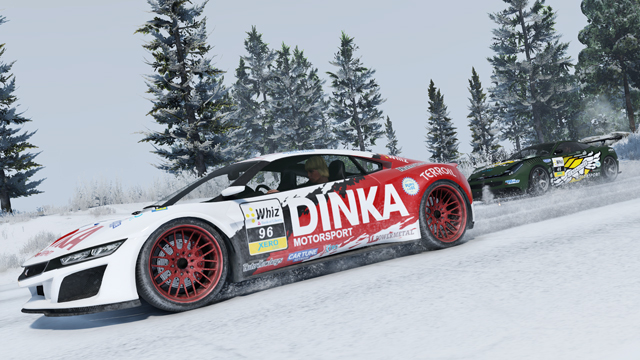 HOLIDAY SPECIAL CRATE DROPS
Keep your eyes on the sky as Holiday Special Crate Drops will be dropping frequently now through January 5th, stuffed with goodies to collect for your inventory – including a few of the rare vintage GTA tees that you may have missed in some of our Social Club Event Weekends over the past year as well as some brand new ones never before available.
CHRISTMAS DAY GIFTS
On Christmas Day, December 25th, as you're relaxing in your Los Santos apartment beside your Christmas tree, make sure to check your inventory for a few extra gifts.
SET OFF SOME NEW YEAR'S FIREWORKS
Ring in the New Year with a bang – the Firework Launcher and Firework rocket ammo are coming back and will be available to acquire and use from Christmas Eve until Monday, January 5th. You can score one for free on four special days: Christmas Eve, Christmas Day, New Year's Eve or New Year's Day.
#FESTIVESURPRISE SNAPMATIC CONTEST
Take your merriest Christmas Crew family photo or capture the insanity of the New Year's party you're hosting in your Los Santos condo – or any other amazing, amusing or beauteous #FestiveSurprise action. In January, we'll pick our five favorite shots and award the photographers with a GTA$1M prize. Tag your entries with #FestiveSurprise now through January 5th to be eligible. Official rules.
THE GTA ONLINE HOLIDAY PARTY LIVESTREAM ON TWITCH: TOMORROW FRIDAY DEC 19th 4pm ET
Tune in tomorrow December 19th at 4pm ET at twitch.tv/rockstargames for the Official GTA Online Holiday Party Livestream with special invited guests from the community. In our last livestream for 2014, we'll be donning our Gingerbread Man Masks and unwrapping and playing with all the fast and fatal new Festive Surprise toys, from the Homing Missiles and Proximity Mines to the Hot Rod Christmas Ratloader and more. Make sure you're in that Twitch chat as we'll be inviting friendly members of chat to join us live in the lobbies on both PlayStation 4 (4-5pm) and Xbox One (5-6pm) portions of the broadcast.
Do stay tuned throughout the holiday weeks for some announcements of opportunities to score bonus GTA$ as well.
Today's new Title Update (1.19 for PS3/Xbox 360, 1.05 for PS4/Xbox One) also includes the ability to own a third property as mentioned above along with other new features, fixes and improvements to the game for all systems.
Happy holidays and enjoy the Festive Surprise – available across PlayStation 3, PlayStation 4, Xbox 360 and Xbox One.