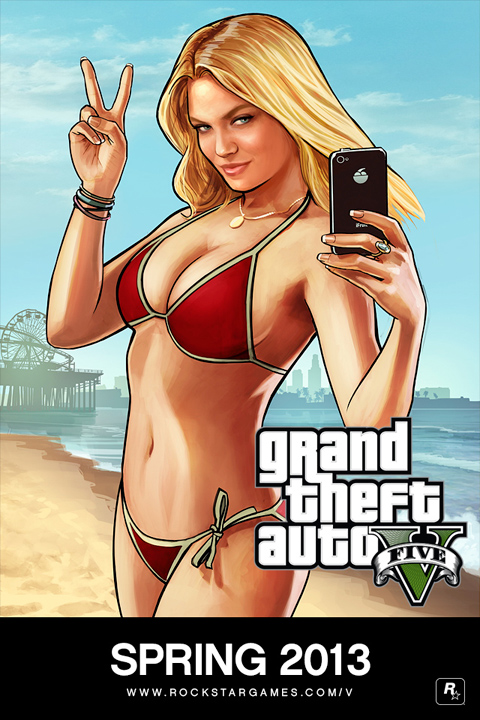 It's actually Autumn 2013 in Australia/New Zealand.
Rockstar Games' Grand Theft Auto V is coming to Xbox 360 and PS3 during Autumn 2013.

Developed by series creator Rockstar North, Grand Theft Auto V is the largest and most ambitious title in the series to date. Set in the sprawling city of Los Santos and the surrounding area, Grand Theft Auto V delivers a world of unprecedented scale and detail bursting with life, from mountaintops to the depths of the ocean.
"Grand Theft Auto V builds on everything we've learned about open world game design," said Sam Houser, Founder of Rockstar Games. "We can't wait to share it with fans."
Grand Theft Auto V is available for pre-order in stores everywhere. For all other information and updates on Grand Theft Auto V including the latest trailers, please visit http://www.rockstargames.com/V/.
Building on the success of the groundbreaking Grand Theft Auto III in 2001, the release of Grand Theft Auto: Vice City on October 29, 2002 pushed the open world game series deeper into popular culture with a vibrant over-the-top take on Miami, a stunning celebrity voice cast and a loving, satirical look at the cultural excesses of the '80s.

To celebrate the 10th anniversary, there will be a series of commemorative assets released, including never-before-seen artwork and a brand new anniversary trailer highlighting some of the most iconic scenes and music from the game.  In addition, a limited run of collectable promotional items will be made available for purchase through the Rockstar Warehouse, with select items also available via online giveaways.

In conjunction with the anniversary, we're pleased to announce that we'll be releasing an Anniversary Edition of Grand Theft Auto: Vice City for select iOS and Android devices later this fall. This upcoming version will bring the full experience to mobile devices, featuring native high-resolution graphics and several enhancements unique to the iOS and Android platforms. Stay tuned for more details in the weeks ahead including a list of compatible iOS and Android devices.
#### RETRO CITY RAMPAGE (PC) v1.04 CHANGES | 2012/10/26 ####
• Shop icons added to the full size pause menu map.
• Cars now have much faster top speeds making it much quicker to get around town.
• Most recent car no longer disappears when starting a mission or restarting from some checkpoints.
• Tap 'dat AS5 stage overhauled. Faster to beat, more gameplay added.
• Hint screens now have their French, Italian and Spanish translations.
• Misc Bug Fixes
Retro City Rampage is finally launching October 9th on PS3 and PS
Vita in North America and on PC / Steam / GOG worldwide. The
European PS3 and PS Vita releases will follow later this month,
with the other platforms 99.9% ready to go and to follow ASAP.

I made the decision to release the game on each platform as soon
as it's through certification rather than delay it any further in
an attempt to achieve an absolutely simultaneous launch. I'm just
one man doing everything!
Link: retrocityrampage.com
Comic Guests – Bob Layton and Ian Churchill
Animation Guests – Kristi Reed (Anime director), Mela Lee (Vampire Knight) Johnny Yong Bosch (Bleach), Charles Mario (Mario Games), Lex Lang (Multiple anime star), Sandy Fox (Multiple anime star), Susan Eisenberg (JLU), Marianne Miller and Martin Billany (Yugioh Abridged), Yaya Han (Cosplay guest)
Wrestling guest – Bushwhacker Luke
TV/Movie stars – Aldis Hodge (Leverage), Aron Eisenberg (Star Trek DS9), Bruce Boxleitner (Babylon 5), Christopher Heyerdahl (Hell on Wheels), Christopher Judge (Stargate sg1), Cindy Morgan (TRON), Finn Jones and Miltos Yerolemou (Game of Thrones), George Lazenby (James Bond), Jim Beaver (Supernatural), Karl Urban (Judge Dredd), Mark Pellegrino (Supernatural), Martin Klebba (Pirates of the Caribbean), Rachel Grant (Die Another Day), Sebastian Roche (Vampire Diaries), Terry Molloy (Classic Doctor Who)
When: October 12-14th 2012
Where: Melbourne Exhibition Centre
Website:  armageddonexpo.com