Patrick Brown has drawn another amazing GTA picture and this time it's of Chinatown Wars.
I can't believe I've actually finished this.. It took forever!!!

This is for those who love any of the Grand Theft Auto series.. I based this on GTA: Chinatown Wars mainly because it's the latest of the series..

I really wanted to use more perspective, even more than my last Lost and Damned pic haha! As you can see Huang Lee has definitely got his 6 star wanted level which I'm sure he'll get out of..

I did consider keeping a similar style to Rockstar Games artwork of the game but I thought I'd make it look more like GTA IV!

Anyways I hope you enjoy this!
Keep an eye out for me, there will be more coming of the new GTA IV episode (when I hear something of it) 😉
Rockstar Games Social Club was recently updated with a description of a new service called "The Message Wall". It's expected to launch sometime this month.
Announcing Rockstar Games Social Club's unique verbal and visual means of mouthing off to your Friends – including a direct message system and customizable personal graffiti wall. Communicate, talk trash with your Friends, and decorate and/or desecrate each other's Walls at will.
An advertisement has been on the Rockstar Games Social Club in the Chinatown Wars section for a while now, saying "Coming soon - Mr. Wong's Laundromat".
MTV Multiplayer did some research and discovered a now removed description of the feature on the GameSpy Technologies website.
Once at the Rockstar Social Club, registered users can also play Flash games like Mr Wong's Laundromat to unlock additional cash that can be spent back in the game. GameSpy's custom work links money earned out of game straight back into your in-game funds to spend on bigger guns and more ammo (and you can never have enough of that).
Ray Liotta, the great actor and the voice of Tommy Vercetti in Grand Theft Auto: Vice City, was on Late Night with Jimmy Fallon, 26th of March 2009.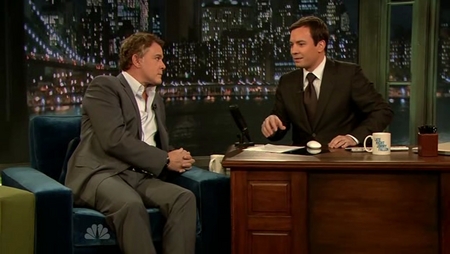 Jimmy Fallon brought up the fact that Ray was in Vice City and here's the transcript:
JF: I love you cause I love your voice, it's so good, cause you know what, I know it from Grand Theft Auto, Vice City. Yeah, so do you get a lot of like fans asking you to say stuff to them.
RL: I did when it first came out.
JF: GET IN THE CAR!
RL: That's right I did do that, cause I never even played the game. Don't you, you can go left, you can go right, if you go left something happens. Cause I remember we would just, there was lots of "Shutup!", "Get out!".
JF: Tommy Vercetti, that was your name. What were some of the things they made you say, shutup is great?
RL: I don't don't know, like "Run oveeer the hooookeeer"
JF: Hahaha, run over the hooker!
RL: "Get the hooker out of the way..."
RL: "Get out of the car"
JF: "Get out of the car!"
RL: It was not nice.
JF: "Get the hooker out of the way!"
JF: "Get out of the car!"
JF: "Alright got my paycheck, alright thank you."
JF: It's a great gig. You've got to be proud of that.
RL: Yeah, I guess.
JF: Do you have a frame of a poster of that in your house?
RL: No, no, actually the only poster I have, and I know a lot of actors, they put their posters in their house and in their office. The only thing, I was really proud of, I have a 10 year old daughter and I did an episode of Spongebob, where I was..."
JF: I think I've seen this episode "Get the hooker!"
RL: No, no (laughing)
JF: It was bad, it got banned in 3 countries.
RL: I was the head of the Bubblegum gang, as I remember but that's pretty close, and I have a poster of that. They sent me a poster that said "Ray Liotta in the Bubblegum gang, the lead Bubblegummer".
JF: That's hilarious.
AustralianGamer.com review with penis spoiler!
For anyone who enjoyed GTA IV, picking this one up is a no brainer (unless you only have the Playstation 3 version ... in which case the experience could be significantly more expensive). For those that were apprehensive about the story driven serious approach taken however, you can expect more of the same – just without a slow learning curve. Personally though, that's just the way I like it.
Chad Sapieha's negative review
Rockstar's developers deserve kudos for doing the best they could given the hardware they had to work with, but it seems to me that some game concepts are simply better suited for more powerful platforms.
spacemeat.com.au - 92%
Chinatown Wars is recommended to any mature DS owner, with a variety of online features and loads of content to explore outside of the core missions, it marks one of the most valuable DS games on the market.
abc.net.au - Good Game (Transcript of their video review)
BAJO
Even though I'm a fan of the other handheld incarnations of GTA on psp I reckon this style is much more fun, and it would be nice to see a top down psp version one day...I'm giving it 9.5.

JUNG
I'm giving Chinatown Wars a 9.
Prior to GTA IV's release, there was a massive GTA IV mural on some Downtown Los Angeles buildings. Those same buildings are now displaying a huge Chinatown Wars advertisement.
Picture taken by Rappzula.