edit: GTA2 v11.44 fixes this bug without modifying the script files. If you have v11.44 then don't install the below fix (unless you really want the cars that are supposed to be on trailers to not be on trailers).
If you save the game after attempting any trailer kill frenzy (these are cars on top of trailers that can only be taken down by certain cranes), GTA2 will crash when you load the save since it tries to put a car that no longer exists on top of a trailer. I fixed this bug on level 3 (Industrial) by adding a check to the .mis file, to see if the car exists before trying to put it on a trailer.
I can't do that for level 2 since the level 2 .mis file was never released but I was able to patch the level 2 ste.SCR (Residential) with a hex editor and remove the PUT_CAR_ON_TRAILER commands completely. This will stop the game from crashing when you load the saved game. The car won't be on the trailer, so you can just start the kill frenzy without taking the trailer to the crane.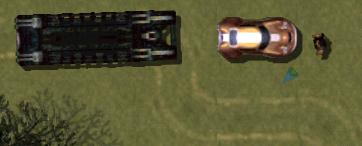 Download: gta2-trailer-kill-frenzy-fix.7z – 76KB
Extract the files to your GTA2\data folder