You are no longer asked "Are you sure you want to join?"
mpaddon and GH no longer cut off anything important if your Windows fonts are on large or extra large
Removed the splitter bar and made the names, CC and status columns fixed width
Removed the ping column from the names list since it didn't display a ping value for 99% of players and was just wasting screen space
Changed controls to flat view with a 1 pixel border
Switched the chatbox back to richtext so you can use ctrl+a
Disabled ctrl+o since it could disconnect you unintentionally
Player count is now shown in the header of the names column as a number in round brackets
Fixed a problem with loading settings (only happened if ServerNum was set higher than 7 by an old version of GH)
Fixed a bug that stopped saved column widths from being restored
mpaddon.exe (the enhanced GTA2 network window) now displays the hosts game comment
the topic now displays on one line (if it doesn't fit, you have to scroll)
When you change the map name on the GTA2 host screen, the map name in GH will also change (there is a delay)
The chatbox is given focus after you click on a nick in the nick list
Alert sounds can be muted while GTA2 is open
Alert sound can now by played for a custom word (it defaults to your IRC nick)
The settings form is reloaded after browsing for the GTA2 folder. This should fix a bug that sometimes didn't save the GTA2 folder location.
The country lists in settings now display flags
Readded the enhanced GTA2 network screen (mpaddon.exe) by Jernej
The nickserv password in settings is no longer hidden
Changed the chatbox from richtext to standard (this fixes some font displaying issues but it might create new ones if you use non english language)
The IRC server list is now read from servers.ini and if it doesn't exist then hardcoded servers are used. Port is still hardcoded to 8067 for now.
When you use the /quit command, the IRC server that you will connect to next is no longer changed
Change "message to" and "message from" to "to" and "from"
Removed some status messages (game was removed from list, GTA2 is listening for joiners)
Fixed a bug that resized the column splitter if you clicked the right mouse button on the chat history and then clicked the scrollwheel button

Updated flags and country names:
"Zaire - ZR" is now "Congo, Democratic Republic - CD"
"East Timor - TP" is now "Timor-Leste - TL"

Removed:
"USSR (former) - SU"
"Yugoslavia - YU"

Currently missing flags for:
"Ecuador - EC"
"Timor-Leste - TL"

Download GTA2 Game Hunter v1.49

Today is my birthday!
During the Nintendo Press Conference at E3 2008, Nintendo announced that GTA is coming to DS this holiday season. It will be called "GTA: Chinatown Wars". GTA DS will use a custom engine and will be set in a modern Liberty City.
Thanks to gta4mods.com for the image.
Full press release below:
Race Adventures 2 by Kamil

Pure Zooka Arena by TommySprat


Check the GTA2 multiplayer map page for details.
MVC have posted an interview with Sam Houser, the co-founder and Executive Producer on the GTA games.

Houser says that surviving in an environment in which large numbers of powerful people want to put you out of business for their own political or economic capital has been the biggest challenge of his career.
Full interview: mcvuk.com
edit: GTA2 v11.44 fixes this bug without modifying the script files. If you have v11.44 then don't install the below fix (unless you really want the cars that are supposed to be on trailers to not be on trailers).
If you save the game after attempting any trailer kill frenzy (these are cars on top of trailers that can only be taken down by certain cranes), GTA2 will crash when you load the save since it tries to put a car that no longer exists on top of a trailer. I fixed this bug on level 3 (Industrial) by adding a check to the .mis file, to see if the car exists before trying to put it on a trailer.
I can't do that for level 2 since the level 2 .mis file was never released but I was able to patch the level 2 ste.SCR (Residential) with a hex editor and remove the PUT_CAR_ON_TRAILER commands completely. This will stop the game from crashing when you load the saved game. The car won't be on the trailer, so you can just start the kill frenzy without taking the trailer to the crane.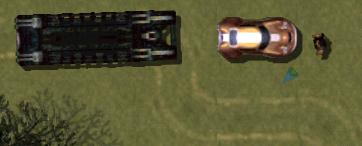 Download: gta2-trailer-kill-frenzy-fix.7z - 76KB
Extract the files to your GTA2\data folder