2006-02-28 – GTA: Rumble status update
"I'm on my 6th core now, after getting bored of the last one i aimed to make one with the capability of supporting peds + traffic, to add some originality to Rumble… afterall, its not as fun working on something that wouldn't be used much when its finished." – Jax
www.gtarumble.co.uk
2006-02-25 – PSP LCS CheatDevice v0.9
Edison Carter has released CheatDevice v0.9 for LCS on PSP. This version has a construction mode and PSP firmware 2.6 users can finally use 333Mhz mode.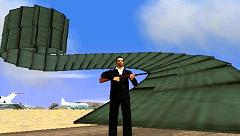 2006-02-23 – GTA2 Insane Stunt Course multiplayer
I added 2-6 multiplayer support to Holy_Jack's and OXMOX's old GTA2 Insane Stunt Course map. Download: isc.zip 19KB
2006-02-22 – MTA: Race 1.1 Beta 1
MTA blog update :
"MTA: Race 1.1 Beta 1 got released to our QA team yesterday. It had a few weird bugs with the "respawning on last checkpoint" feature, but those were fixed today. The voting nomination also has a bug I need to fix. Other than that it seems to work well, meaning you can expect a new release of Race pretty soon."
2006-02-06
A video showing some SA:MP game modes has been released. Download the video from the SA:MP media page.