2006-06-26 – PlanetGTA.com LCS PS2 review
Jordon from PlanetGTA.com has reviewed LCS PS2 .
2006-06-26 – SA:MP will allow object creation
The SA:MP scripting engine has been updated. The next version of SA:MP will have the ability to create and manipulate objects on the fly. Some screenshots and videos have been released that show an outside boxing ring and a loop de loop.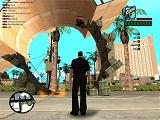 Source: SA-MP blog
2006-06-14 – Golden Joystick Awards 2006

You can vote for GTA: LCS in the following categories: Ultimate Game of the year, Soundtrack Award, Playstation Game of the year and Handheld Game of the year. You can vote Rockstar as Publisher of the year and GTA4 as The One to Watch for 2007. Thanks to gtapsp.com for the news.
2006-06-11 – MTA:SA status update
Weapon sync has been improved and is apparently deadly accurate. A new ban system has been added and as you can see in the screenshot, trains are now supported.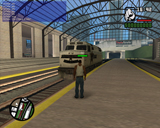 MTA:SA blog