How do I play GTA2 multiplayer?
The easiest way to play online is with GTA2 Game Hunter. If you want to do it the manual way or play on LAN then follow the instructions below:
Hosting:
Find a GTA2 player with broadband (use forums, IRC or instant messaging)
Find out your IP address. For playing online get your IP from a site like: www.ipchicken.com. If you are playing on LAN then run cmd.exe and type IPCONFIG. Try all the active IPv4 addresses listed.
Tell your friend your IP address (best to do this with instant chat and not on forums)
Start GTA2 Manager.exe
Click Network, select TCP/IP and leave protocol connection blank
Click Start Network Game

Enter a name for your player and click create

Select the map and other game settings
Tell your friend to join your game and then wait.
Joining:
Get the host IP address and copy it to the clipboard.
Start GTA2 Manager.
Click Network, select TCP/IP and put the host IP address in the protocol connection box (on LAN you can leave it blank or put the LAN IP).
Click Start Network Game.

If you see your friends game then click Join.

Close anything that is using bandwidth or any app that could popup a window and wait for the host to start.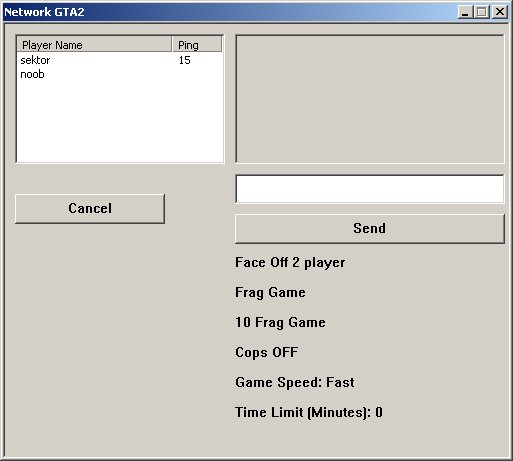 If this doesn't work then make sure you have the right IP address and check if you are behind a router or a firewall is in the way. Remove it if you can and try for a direct connection or if you are smart and you know how to setup your firewall/router then you can forward these ports:
47624 TCP/UDP
2300-2400 TCP/UDP ( forward the whole range, 100 ports )
GTA2 router setup info - It used to be more detailed but now it just links to portforward.com since they have screenshots for hundreds of routers.